Transforming crude flows and evolving oil markets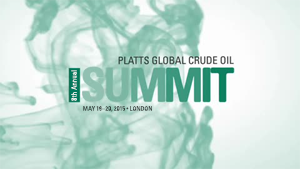 The 8th annual Platts Global Crude Oil Summit sets a unique global agenda, inviting industry leaders to share their views on the critical developments affecting both the oil upstream and trading communities with 2 days of sessions and networking.
Our marquee oil conference provides the perfect environment for stimulating debate and interaction with the speakers and the rest of the industry allowing you to develop the knowledge, insights and new relationships you need for the year ahead.
What can you expect in 2015?
A unique and comprehensive international upstream outlook from those at the forefront

Join 250 Influential market leaders and foremost experts from the international oil community as they evaluate and debate the industry's evolving landscape and strength while tacking the key questions impacting you now and in the future.

View Agenda >

The impact of market volatility on trading and risk management

Hear experts from the international trading community discuss oil price movements, benchmarks evolution, regulation changes and risk practice development in this volatile time.

View Agenda >

New connections, new ideas, new business

Drawing from Platts' ambition to connect the oil markets, the 8th Annual Global Crude Oil summit encourages delegate participation and networking opportunities. Over two full days, interactive panel discussions and speaker sessions combine with a variety of social functions and new event app, all specifically developed to increase the exchange of value.

View Who Attends >
A unique and comprehensive international upstream outlook from those at the forefront

The impact of market volatility on
trading and risk management

New connections,
new ideas, new business

Latest News